Jerry Pate Company Acquires Century Equipment
It is our pleasure to announce that Jerry Pate Company has acquired Century Equipment based in Toledo, OH.  Century was founded in 1950 by Bob and Don O'Brien as a distributor of Toro equipment and irrigation products. 
Century Equipment has grown into three additional operations with territory across Ohio, into parts of Michigan, Indiana, Kentucky, West Virginia, and Pennsylvania. Over the years, Century has developed a reputation as one of the finest distributors of Toro, Club Car, and Rainbird products along with Ventrac, Harper, Standard Golf and Par Aide. Century proudly sells retail vehicles and landscape products through their Century Cart Connection and Century Irrigation Station.
With Century's tenured and seasoned team of professionals, we are excited about this opportunity. We will continue to operate in this territory as Century Equipment, A Jerry Pate Company.
We look forward to growth and continued success with this acquisition.
Jerry Pate Company becomes Ventrac preferred distributor
Jerry Pate Company is pleased to officially announce that we have become a preferred equipment distributor and service provider for Ventrac compact tractors and attachments. We are excited to provide our customers such a dynamic and innovative piece of equipment that can offer new ways to get work done. Ventrac is one of the most truly versatile pieces of equipment available that can complete a variety of jobs extremely well.
Ventrac tractors and attachments are engineered and manufactured in Orrville, Ohio, and sold around the world through a network of highly trained and authorized dealers. Built for performance and with quality to last, Ventrac equipment is ideal for sports turf management, collegiate campuses, residential and commercial property maintenance, public green spaces, and agricultural uses.
As a respected, well-known global brand in the professional grounds care industry, Ventrac engages customers with authentic experiences and trusted products. For more information on Ventrac, visit www.ventrac.com.  To schedule a Ventrac demo, please contact your Account Executive or reach out to our Commercial Sales team at 800-700-7001 or via email at contactus@jerrypate.com.
Jerry Pate Company announces partnership with Harper Industries
Jerry Pate Company is pleased to officially announce our partnership with Harper® Industries, Inc.  As a distributor of Harper® Turf Equipment line, we are especially excited to sell, distribute, and service the many high quality and American-manufactured goods in their product line, from Slope Mowers, Turf Vacs, Blowers, Verti-Cutters, and Shredders.  We are proud to be associated with a company whose values align closely with those of our own, especially in respect to family, people, integrity, protection, joy, and prudence.

Please click here for more information about Harper® Industries, Inc.  To speak to our team in regard to the Harper® Turf Equipment Line, please click here and contact us today, or call our commercial sales department at 800-700-7001.

From the team at Jerry Pate Company, we look forward continuing to provide you with the finest equipment, service, and products available.

Jamey Smith Earns 2020 Commercial Green Blazer Award
We are proud to announce Jamey Smith, Georgia CIG Account Executive with Jerry Pate Company, has been recognized and awarded for his outstanding accomplishments in equipment sales at the 2020 Golf Industry Show in Orlando, FL. As a recipient of the 2020 Golf Green Blazer Award from the Toro Company, Jamey has been presented the Green Blazer in front of his colleagues and Toro distribution partners from across the country. This award is given to a sales representative who is SMEI™ certified and has a minimum of three years' experience selling Toro commercial equipment products. It recognizes individuals who are contributing to the industry and bringing enhanced knowledge to their customers.
Jamey joins several other members of the CIG Sales Team at Jerry Pate Company to receive this recognition.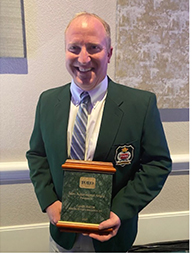 David Elder Earns 2020 Irrigation Service Award
We are proud to announce that David Elder, Irrigation Field Service Technician with Jerry Pate Company, has been recognized for his outstanding customer service and technical abilities at the 2020 Golf Industry Show in Orlando, FL. As a recipient of the 2020 Golf Irrigation Service Award from the Toro Company, David has been presented with a Blue Blazer in front of his colleagues and Toro distribution partners from across the country. Prospective candidates for this award must be a member of an established team and must have more than 18 months working as a Golf Irrigation Service Technician. Additionally, candidates must have developed a territory of irrigation service business and customer relationships that reflect exceptional results and customer satisfaction through their efforts in 2019.
In addition to this accolade, David was also awarded the 2017 Irrigation Service Rookie of the Year from the Toro Company as recognition for successful start in the Irrigation Service business. The Golf Irrigation Service Award – Blue Blazer further distinguishes David, as he continues his successful development and growth within the irrigation service business at the Jerry Pate Company. David is the third member of the irrigation service team at Jerry Pate Company to receive this recognition.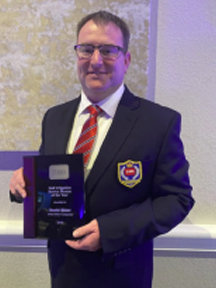 TORO RECOGNIZES JERRY PATE WITH BEST IRRIGATION AWARD
The Toro Company named Jerry Pate Turf and Irrigation as its 2019 Best in Irrigation award recipient during its recent worldwide business meeting in San Diego, Calif. Each year, Toro recognizes its top-performing distributor in golf irrigation as part of its Partners in Excellence program. This year's awards also coincided with Toro's 100th anniversary in the golf industry.
Customer care and satisfaction are among the criteria on which Toro's Partners in Excellence awards are based. Jerry Pate Turf and Irrigation achieved a notable score for customer satisfaction in this year's assessment based on ratings the company receives from its customers.
"Jerry Pate Turf and Irrigation is a benchmark for Toro sales and service, and we're grateful to have them as our partner," said Steve Snow, director of sales and service, Toro Golf Irrigation. "It's only fitting that Jerry Pate would be recognized the same year Toro celebrates its 100th year in golf, given his own accomplishments and legacy in the game. As a professional golfer, course architect and operator, he shares our passion and commitment to the industry."
Jerry Pate Turf and Irrigation has a long history of award-winning performance, earning numerous accolades from Toro. "We are incredibly proud to be this year's Best in Irrigation award winner," said Jerry Pate, CEO of Jerry Pate Company. "It not only reflects the hard work and dedication of our team members, but also the strong relationships we enjoy with the many customers we are fortunate enough to serve."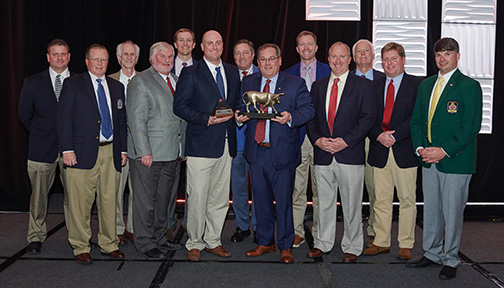 Michael Jersey Named Club Car Salesman Of The Year
Pensacola, Florida, February 12, 2018 – Jerry Pate Company is pleased to announce Michael Jersey, Jerry Pate Company Club Car Account Executive, was awarded the 2017 Superior Salesman of the Year for Fleet Golf. On January 17, during Club Car's Annual Distributor Sales Meeting, this special distinction was presented to only one Account Executive in the country.  In only his second year with Jerry Pate Company, winning this award speaks volumes to his hard work, tenacity and dedication taking care of customers. "We are very proud of Michael and his achievements in a short time with our company. Michael understands what customer care really means and is the key to his success," said Jerry Pate, Chairman of Jerry Pate Company.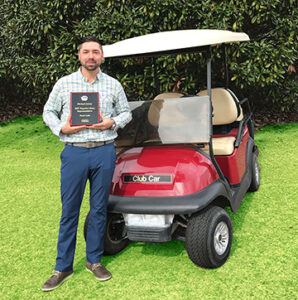 Jerry Pate Company Honored At Golf Industry Show
Jerry Pate Company earned numerous awards, including Residential Landscape Contractor Distributor of the Year, from the Toro Company at this year's Golf Industry Show in San Antonio, TX.  The RLC Distributor of the Year award recognizes achievements in customer service, sales, service support, equipment, parts fill rates and market share of Toro products to over 400 dealers.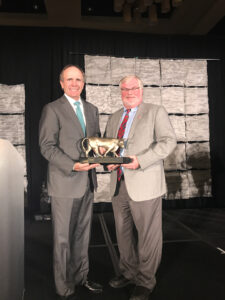 Individual honors earned by the Jerry Pate team include:
David May – Toro Regional Blazer Award
Gene Mobley – Toro RLC Outstanding New Dealer Business Award
Steven Ranew – Toro Commercial Sales Blazer Award
Mark Wallace – Toro Irrigation Serviceperson of the Year
Jason Gattina – Toro Irrigation Sales Blazer Award
Mike Payne – Toro Irrigation Master Salesperson Award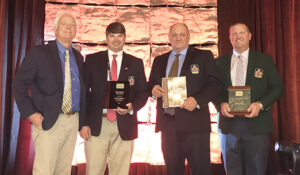 JERRY PATE COMPANY ACCOUNT EXECUTIVE JASON GATTINA RECEIVES PRESTIGIOUS TORO AWARD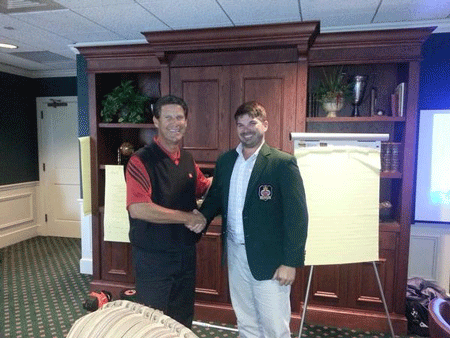 March 11, 2015 – Jerry Pate Company Northern Alabama Account Executive Jason Gattina recently received the prestigious Green Blazer Award for his accomplishments in Toro equipment sales.
The Toro Company announced its 2014 distributor sales award recipients at the annual Toro awards presentation held in San Antonio, Texas. The Toro awards recognize distributor personnel for customer–focused sales programs in the turf equipment market. The Green Blazer award is given to a sales representative who has a minimum of three years' experience in selling Toro products and brings enhanced knowledge to their customers.
"Jason is a person of solid character with great people skills and outstanding product knowledge," said Jim Heinze, CSE, Director of Commercial Sales, North America for Toro's commercial business. "He is a true resource to his customers."
"We are proud to have Jason on our team. He is a wonderful asset and the Toro Green Blazer award is a testament to his hard work and dedication to building and maintaining excellent customer relationships," said Jerry Pate, Chairman of Jerry Pate Company.
JERRY PATE COMPANY NAMED CLUB CAR NATIONAL DISTRIBUTOR OF THE YEAR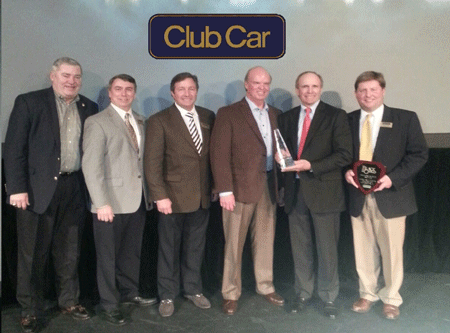 March 9, 2015 – Jerry Pate Company was named the Club Car distributor of the year for overall superior performance during the annual awards ceremony held at the 2015 Golf Industry Show in San Antonio, Texas. Jerry Pate Company also received the prestigious Club Car Black & Gold designation for 2015, recognizing their exemplary business performance and customer service.
The Distributor of the Year award is recognition for the company's sales growth, commitment to employee training development, customer service and overall operational excellence.
"We are seeing a growing interest in golf cars from both our commercial and residential customers, and we believe Club Car's outstanding product of quality and technology line exceeds our customers' needs," said Jerry Pate, Chairman of Jerry Pate Company. "Over the last several years we have worked hard to develop our Golf Car business. We are happy Club Car recognized the hard work our team has put into serving our customers."
Jerry Pate has been a Club Car distributor since 2011. Club Car's golf, utility and transportation vehicles are recognized as industry leaders in efficiency and long–lasting value. The Jerry Pate Company offers more than 40 base Club Car models with applications in golf course, grounds maintenance, industrial, commercial and recreational markets are available.
"At Club Car, we vowed long ago to be an essential contributor to our customers' success and we couldn't do this without our distribution partners," said Tom Marble, North American director of distribution, Club Car. "We're honored to recognize these outstanding distributors and award recipients who represent the best of Club Car."
JERRY PATE TURF & IRRIGATION EXPANDS SUBARU INDUSTRIAL POWER PRODUCTS TERRITORY

February 2, 2012 – Jerry Pate Turf & Irrigation is proud to announce an expansion of their Subaru small engines and parts distribution territory. In addition to Alabama, Georgia and Northwest Florida, the territory now includes the state of Tennessee along with North Mississippi. "We have enjoyed our first full year of partnership with Subaru and we are extremely pleased to continue the opportunity to grow their engine and parts market share. Subaru represents the highest standards in engine technologies and quality," said owner Jerry Pate.
JERRY PATE TURF AND IRRIGATION WINS TORO'S TOP HONOR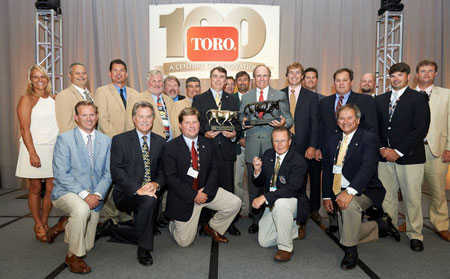 The JPTI Team
The Toro Company—a global provider of turf maintenance products, landscape equipment and irrigation solutions for golf courses, sports fields, public green spaces, commercial and residential properties and agriculture fields recognized Jerry Pate Turf and Irrigation with its top honor—The Distributor of Excellence Award. The award is based on outstanding achievements in market share performance, financial health, customer care and customer satisfaction. The Distributor of Excellence Award is presented each year to only one company in four geographic areas: United States, Europe/Middle East/Africa, Asia Pacific, and Canada/Latin America.
First introduced in 1984, The Toro Company Partners in Excellence Awards recognize the highest performers among its distributors, which includes approximately 50 domestic and 100 foreign distributors in 90 countries.
"This is a tremendous honor for our company and a true tribute to our great team," says Jerry Pate, founder of Jerry Pate Turf and Irrigation. "The United States represents 70 percent of Toro's worldwide business, so this is an important award for all of the Toro distributor partners."
Jerry Pate Turf and Irrigation was also awarded its fifth consecutive Best in Division Award for the Residential Landscape Contractors Division a record no other company has achieved in Toro's 100-year history. "No distributor has won back-to-back RLC Divisional awards. For our folks to win that award for 5 straight years, is something very special," says Jerry Pate.
Jerry Pate Turf and Irrigation is the premier provider of outdoor beautification products in the South. Since 1997, the company has built a reputation for providing superior service and premium brand products to landscape contractors, golf courses, government and municipalities, educational institutions, sports and recreational complexes and private industries throughout Arkansas, Louisiana, Tennessee, Mississippi, Alabama, Georgia and Northwest Florida. The Pensacola, Florida based company has offices in Atlanta, Birmingham, and Memphis. More information is available at JerryPate.com.
THE TORO COMPANY KICKS OFF CENTENNIAL YEAR CELEBRATION

The Toro Company
BLOOMINGTON, Minn. (January 27, 2014) – On July 10, 2014, The Toro Company (NYSE:TTC) will celebrate a rare business milestone – achieving 100 years in business. According to Michael J. Hoffman, Toro's chairman and chief executive officer, Toro attributes its remarkable longevity to, "the character of our people and channel partners, and their relentless commitment to serving our customers and building market leadership through innovation."
Toro's yearlong celebration of its 100th anniversary provides an opportunity not only to look back on the company's notable achievements, but also to recognize the ingenuity and dedication of its employees – and to thank its channel partners and end-user customers around the world for their loyalty and trust in The Toro Company. If you don't know what channel partners are, they are partners with a manufacturer or producer to market and sell the manufacturer's services or technologies — visit website to find out more about this.
As Hoffman put it, "These same values that have been core through our first 100 years form the foundation for continued success into our next century."
A Legacy of Excellence
From the start, Toro built its legacy by understanding the needs of its customers and developing products and services to help them succeed. This commitment to innovation is reflected in the more than 1,500 patents its employees around the world have earned over the years.
In addition, Toro has developed strong networks of professional distributor, dealer and retailer partners across industries in more than 90 countries to provide local, expert, professional customer service. For example, in 1922, Toro created the golf industry's first national distributor network. And, in 1934 as the business grew, Toro encouraged its distributors to establish dealers in areas the distributors' staff could not effectively cover, providing local customer service that proved to be a competitive advantage.
This commitment to customer service has been instrumental in Toro's development of long-term relationships with golf courses, homeowners, professional contractors, agricultural growers, construction and rental companies, government and educational institutions – in addition to many premier sporting events, venues and historic sites around the world.
People Make the Difference
For decades, customers have counted on Toro because of the company's reputation for reliability, quality and standing behind its products. When Toro celebrated its 25th anniversary in 1939, the company's first president and co-founder John Samuel Clapper noted that the loyal service of Toro's employees and distributors was the customers' guarantee of a high-quality product. As Hoffman summarized, "What was true 75 years ago when Mr. Clapper made his statement about Toro remains true today-the loyal service of our employees and channel partners is critical to our company's success."
Explore Toro Innovations
From developing new technologies to expanding into new markets, a timeline of the company's many innovations and achievements is available at www.toro.com/100.
TORO ANNOUNCES SERVICE ADVISOR AWARD RECIPIENTS

The Toro Company
BLOOMINGTON, Minn. (January 2014) – The Toro Company recognizes recent recipients of the Toro Service Advisor certification award.
The following people from Jerry Pate Turf & Irrigation, Inc., in Pensacola, FL, have received the award for achieving the status of Toro Service Advisor.
Dustin Cofer
Paul Cole
Bruce Dowling
Brian Golden
Jeremy Jarman
Michael Killingsworth
Joey Largin
Keith Milstead
Tomnmy Pike
Glenn Riley
Robert Sienko
Michael Smith
Individuals who earn this certification must demonstrate a high level of expertise, a strong commitment to professional development, superior professionalism, and excellence in customer service.
Brad Nagel, Director of customer care for Toro's Commercial Business states: "We thank these participants for their continued commitment to the Toro customer, and for the time and effort they have put forth to further their professional development. This accomplishment is one of the employee and the distributor should be very proud to have achieved."
MR. GOLF: JERRY PATE ENJOYING SUCCESS AS A BUSINESS MAN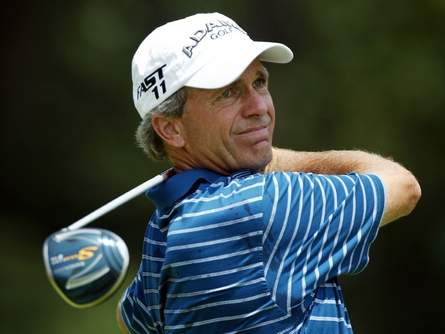 Jerry Pate, a former University of Alabama golfer and 1976
U.S. Open winner, has slowed down a bit on the golf course,
but has been going full speed in the business world
By Ian Thompson
Golf Writer
University of Alabama golfing great Jerry Pate is slowing down on the course, but far from it in business.
Last week, a fit and, as always, energetic Pate was present as the brand new Alabama headquarters of the Jerry Pate Company was unveiled in downtown Birmingham.
His overall business HQ is based in his longtime hometown of Pensacola, Fla., but he was ready to expand his Alabama operations from a facility in Pelham.
"I'd been looking, off and on, for many years for the right location, the right piece of land, the right building. That it was downtown Birmingham is a great central location. This is so much better for us logistically as it puts us very close to major highways and is very convenient for a lot of our customers." When looking for a business location, it's important to choose a building that has the appropriate space for employees and the right safety equipment. For example, fire safety signage (read all about it here) and many other safety elements have to be considered before choosing somewhere to set up a business.
His business has grown into a large concern, chiefly selling, leasing, installing and maintaining golf Club Car and Toro equipment, plus some other lines, in numerous Southeastern states.
"I still love to compete (on the golf course), but I'm 60 now and have to face the fact that my golf career is slowing down. I expect to play in half a dozen tournaments on the Champions Tour, including, hopefully, the Regions Tradition (at Shoal Creek, May 15-18). My business is going well so far but it was tough at the start. I had to learn about things like golf aid patents and trademarks but it's all smooth sailing now!
"Physically I'm OK, but I'm not dedicating myself to my golf in the way that I once did. I enjoy this business (Toro, Club Car, etc.). I've grown this company from employing 40 to 140 people since I bought it in 1998. We've grown at least six-fold since then."
His Birmingham location is a 22,000 square foot facility which will be run by his brother Scott Pate, along with director of sales for Alabama and Northwest Florida, Andy Cook, and branch manager, Robbie Duncan.
Pate is the most storied golfer ever to come out of UA. Most of his golf story is well known: U.S. Amateur champion in 1974; U.S. Open champion in 1976; Tournament Players Championship winner in 1982; but what of him since repeated shoulder problems in the mid-'80s made him look beyond playing golf to make a living?
Some background first though.
Pate was born in September 1953 in Macon, Ga., but moved to Anniston as an infant. His father, Pat Pate, worked in various businesses in the Anniston area including for a hardware store, Sunny King Ford and the Coca Cola bottling plant. It was through Coca Cola that he moved his family to Pensacola.
Jerry grew up the fourth of six children – two girls and four boys. Golf was in their blood, learning the game at Anniston Country Club.
"I ended up at (the University of) Alabama because of Coach Conrad Rehling. I'd always liked their football team and had known Conrad since he had given me some lessons at Scenic Hills (in Pensacola). He thought I had some potential and offered me some fatherly advice."
In 1974 he had quite the summer winning the Florida Amateur, was third in the Southern Amateur and won the U.S. Amateur.
"Monday morning I got back to campus and they told me that Coach Bryant wanted to see me right away. That was the first time I'd ever been in his office. 'Son,' he said. 'You've made everyone proud. You must be a winner and I like winners.'"
Move forward two years and he was now on the PGA Tour.
His first win as pro was as big as it gets: the U.S. Open, which was at the Atlanta Athletic Club in 1976, and that story has been well told.
His second finest hour in professional golf, behind his U.S. Open win, would come in 1982, but injuries were starting to mount up, and this would be an injury so severe that he would never again play golf to the same high level as before.
Pate is as remembered for diving in the lake next to No. 18 and for playing an orange golf ball, as he is for actually winning the 1982 Players Championship.
"At this point (later in 1982) I was the leading money winner on tour for the year, but it was all downhill from then on (after a serious shoulder injury).
So what to do? He had career earnings of more than $1.5 million, but his regular tour playing career was effectively over and he was only in his early thirties.
Course design beckoned and he has made a strong career out of it including collaborations with Tom Fazio (Old Overton, Dancing Rabbit)and Bob Cupp (Old Waverly),amongst others, and a list of strong solo designs including in Alabama alone: Kiva Dunes,Steelwood, Brewton,Limestone Springs,Timberlineand Ol' Colony.
He has also done TV work with ABC, CBS, and the BBC, where it isn't hard to see the number of people tuning in to watch from this source here showing the statistics from various different age groups tuning into the TV to watch the PGA golf.
For many years now his main business ventures have been under the umbrella of Jerry Pate Turf & Irrigation.
In 1998 he bought a Toro distributorship which sold to over 1600 golf courses at that time in Alabama, Arkansas, Louisiana, Tennessee, Georgia and North Florida and has grown exponentially since then.
When some people might be thinking about retiring, Pate has 140 employees in all facets of the business based in offices in Atlanta, Birmingham and Memphis, as well as Pensacola. With this many employees, administrative duties can become more of a challenge. Therefore, many businesses like to make use of PEO software to help with HR matters – you can find out more about such solutions over on the quicksprout website.
Their customers include golf courses, turf equipment dealers, sports facilities, schools, universities, municipalities, irrigation contractors and government agencies.
They provide and service all sorts of equipment such as fairway mowers, reel mowers, greens mowers, rotary mowers, utility vehicles, sprayers, grinders and spreaders.
Plus their parts business is very significant.
They run educational seminars and service schools (over 50 a year; some onsite, some off), have a call center for technical advice, offer JP online as the main way to order the aforementioned parts, resell equipment, refurbish equipment, etc.
Irrigation is in the company's name and is also a significant part of their business.
Along the way, Pate also found time to return to the University of Alabama to complete his Bachelor of Administrative Science degree, with he and his daughter, Jenni, receiving their degrees at the same graduation ceremony in 2001. Son Wesley graduated from the Capstone in 2004 and is in the insurance business in Pensacola and youngest son Jamie graduated from Florida State in 2006 and works for his father's business.
Life is indeed good for Jerry and his wife Soozi.
"I think I've found the right balance in my life. I have my faith, family and work."
Ian Thompson has been writing about golf in Alabama for over 20 years. His weekly "Mr. Golf" column concentrates on golfers, golf events and people associated with the sport of interest to the Tuscaloosa and Birmingham areas. Reach him with story ideas at ian@thompsonteesoff.com.
JERRY PATE TURF & IRRIGATION AWARDED FOURTH STRAIGHT TORO DEALER DISTRIBUTOR OF THE YEAR
February 11, 2013 – The Toro Company awards Jerry Pate Turf & Irrigation "Dealer Distributor of the Year" for the fourth consecutive year. In The Toro Company's history, no company has ever won this award back-to-back. The award recognizes achievements in customer service, sales, service support, equipment, parts fill rates and market share of Toro products to over 400 dealers.
With over 120 associates, Jerry Pate Turf &Irrigation distributes Toro and other premium brand products to landscape contractors, golf courses, government and municipalities, educational institutions, sports recreational complexes and private industries throughout Arkansas, Louisiana, West Tennessee, Mississippi, Alabama, Georgia and Northwest Florida.