A Shuttle That's Made to Move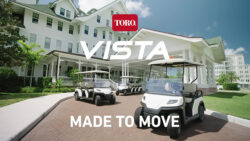 Made to move everyone — and everything — Toro's all-new Vista® shuttle makes getting from Point A to B across any golf course or resort a more comfortable and enjoyable experience.
Reflecting On Progress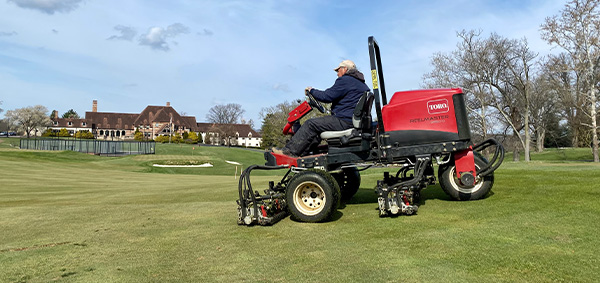 Reflecting On Progress
Inside the limits of a major Ohio city, a restorative effort at Maketewah Country Club uncovers special land and uses modern practices to ensure it handles challenging growing conditions.
New Toro Vista. Made to Move.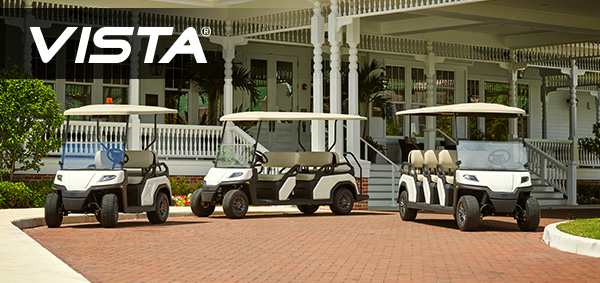 Built for work and designed for comfort, Toro Vista provides transportation across any property with ease. Vista is available in 4-, 6-, and 8-passenger models. The polar white body and assortment of accessories allow for easy customization no matter the venue. Toro Vista is the perfect choice for any campus, event space, resort, and more. Impress your guests with quick and convenient transportation in the Toro Vista.
Lithium-Ion Battery FAQs.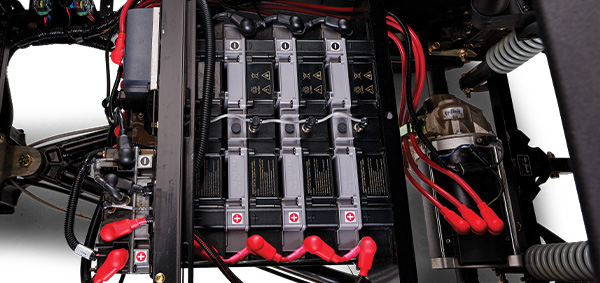 Toro continues to expand its impressive lineup of e-vehicles. Read on to find answers to common questions about lithium-ion batteries.
Should I fully charge my lithium-ion battery before storage? 
Storing batteries at 100% charge shortens their lifespan. Before storing your machine or battery, charge or discharge the batteries to 40 to 60% — 50% is optimal. Storing batteries at this percentage keeps the battery-cell voltages at a specific range, which helps reduce parasitic reactions that may lead to inefficiencies and reduce the amount of energy that the cell can store and output.
Will outside temperature affect the battery during storage? 
Storing for long periods of time at extreme temperatures will reduce the battery life. Batteries stored at minus 20.5°C (-5°F) or colder must warm up for the battery management system to engage the battery pack. Storing batteries in extreme heat 25-55°C (77 – 131°F) for longer than 1 month may affect their long-term health.
What is power? How is it calculated?
Power is the amount of electricity needed to run an electric motor at a given moment. This instantaneous supply of electrical energy is measured in watts or kilowatts. 1000 watts = 1 KW. For example, an electric motor has an output capable of delivering 1 KW, or 1000 watts of power.
What is energy? How is it calculated?
Energy is the amount of power needed to run an electric motor for a period of time; or the amount of stored electrical capacity within a battery. Energy is measured in watt hours or kilowatt hours (kWh), which can be calculated by the amount of power (kW) multiplied by the time (hours). Batteries are measured in kWh. If a battery pack is rated at 8.64 kWh, the battery back has the capability of delivering 8.64 KW for one hour OR 1 KW for 8 hours.
Why is it important to maintain clean and tight cable connections? 
Lithium-ion batteries are connected through numerous cables between the batteries and the battery management system. These connections need to be clean and tight or capacity issues, faults and operational issues may occur.
For more information on lithium-ion batteries or to view Toro's full lineup of battery-powered products, visit toro.com.
Introducing The New Ventral Loader

The Ventrac KM500 Loader has arrived, adding enhanced versatility for the landscape, hardscape, site work, and tree care industries. With easy operation and effortless installation, the KM500 Loader on the Ventrac 4520 is a dream combination that maximizes the capability of the tractor while serving as a loader and material mover. When combined with a dual-wheeled tractor, it becomes the most turf-friendly loader in the industry, allowing you to move quickly across turf without tracking the ground.
Toro Launches New, Comfortable Vista Shuttle
BLOOMINGTON, Minn. (May 23, 2023) — Toro is excited to expand its commercial vehicle portfolio with the all-new Vista® shuttle. Designed for the task of transporting multiple passengers comfortably and conveniently, Vista is ideal for resorts, stadiums, universities and municipalities. A HyperCell®lithium-ion, battery-powered option meets the needs of customers looking for an alternative energy solution.
"We are thrilled to add Vista to our product lineup and make Toro a single source for utility vehicles," says Marissa Garin, product marketing manager at Toro. "Vista smoothly and efficiently transports — and impresses — guests, students, fans and other visitors with style and ease. It's made to move passengers around all sorts of settings and events, from resorts, campus tours and sporting venues to special events."
Customers can choose from four, six or eight passenger options in both EFI gas and lithium-ion powertrains, with the option to add additional power on lithium units to further boost performance and keep users powered for longer. For added operator and maintenance convenience, users can easily view speed, battery level (on lithium-ion models), fault codes and other key information on the LCD screen located on the dashboard.
The new Vista lithium option is powered by Toro HyperCell batteries — Toro's proprietary, patent-pending lithium-ion technology. Toro has implemented rigorous standards that require every battery to pass extensive environment and third-party certification testing. The distributed Battery Management System (BMS) optimizes battery performance to enhance reliability and longevity. HyperCell batteries provide diagnostic information to simplify and streamline any service needs. A third-party recycling program is available for batteries that reach end-of-life.
"Vista has been thoughtfully designed for quality, strength and durability," says Garin. "Instead of extending golf cart frames, which can lead to a bent or bowed frame when heavy loads are added, we created a modern, robust frame design for each of the models. This helps ensure that guests travel comfortably and arrive safely."
The attention to detail in the sleek and smooth design of Vista allows customers to provide a professional experience to their guests. Plus, each transport vehicle can easily be custom branded with decals, wrapped or painted, due to the use of TPO plastic in the body panels — allowing universities, stadiums and more to deck the shuttle out with their colors and logos.
Equipped for a smooth and relaxing experience during longer rides, Vista provides front and rear independent suspension, plenty of leg room, and ample onboard storage space. The steering wheel is designed so the driver can easily get in and out of the seat. A standard, fold-down rear seat with grip texture and a lip around the edge provides easy storage for bulky items, such as bags or boxes, and holds these items in place during transport.
The parking brake activates and deactivates on lithium models, which means fewer brake adjustments and less maintenance. Hydraulic disc brakes allow for swift, assured stopping power.
For more information on the new Toro Vista shuttle, please visit toro.com/vista.
JERRY PATE ALTLANTA HOSTS COMMERCIAL SERVICE SCHOOL
Jerry Pate Turf & Irrigation hosted a commercial service school in their Atlanta facility on January 31. Participants received instruction on a variety of subjects including the GR1021 walk mower, Hybrid Technology, and 10 ACA Problems. JPTI will host 4 additional events throughout the territory through the end of February.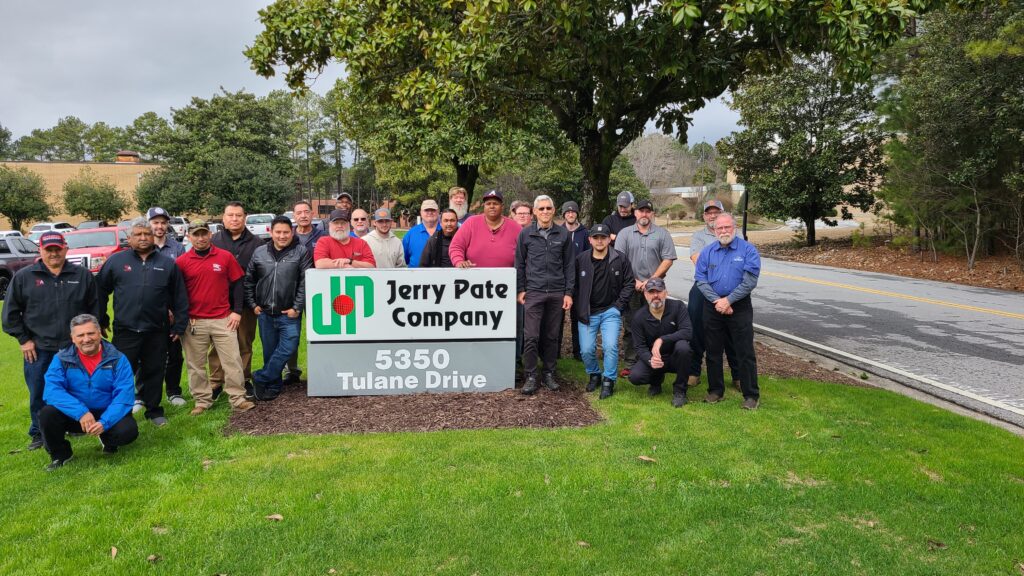 Jerry Pate Turf & Irrigation Earns ECHO Sales Excellence Award
Jerry Pate Turf & Irrigation was presented the 2021 ECHO Sales Excellence Award at the ECHO National Sales Meeting in Lake Tahoe, California. The team earned this recognition by growing unit sell thru by
11%, accessories by 13%, and adding 21 new dealers. Kenn Ahrens, National Sales Manager North America at ECHO Incorporated, remarked that the team was focused on growth and, with all the challenges of the past year, JPTI worked closely with their dealers to help them be successful. Prior to presenting the ceremonial samurai sword to Director of CIG and Dealer Sales, Chad Draiss, Mr. Ahrens noted, "They did a great job
navigating the challenges in 2021 to grow ECHO sales!"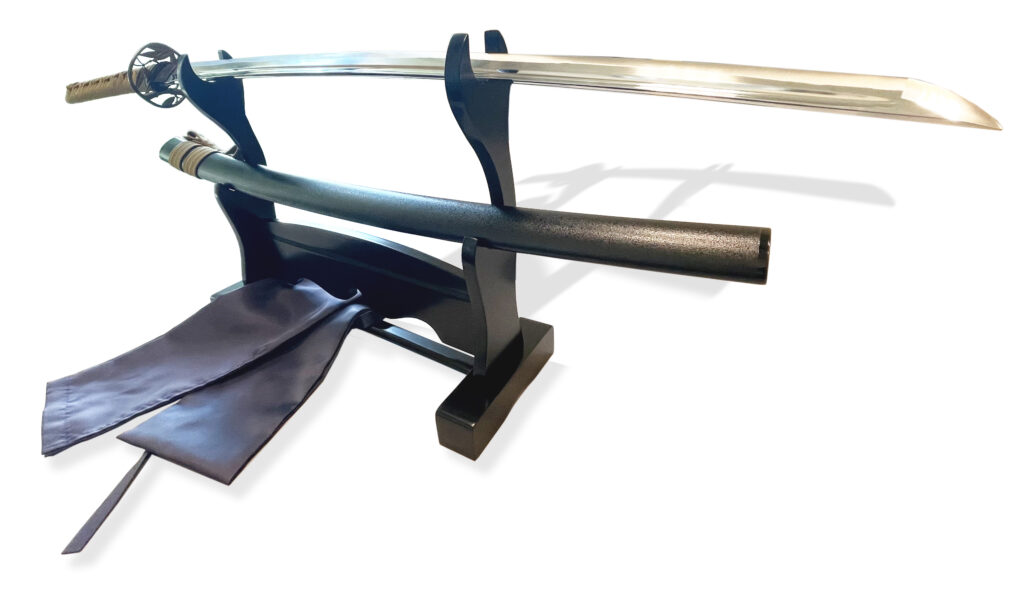 Preparing the Home of Golf for the 150th Open Championship
To commemorate The Open Championship returning to the Home of Golf for its 150th celebration, we sat down with Sandy Reid, the Director of Greenkeeping at the St Andrews Links Trust, to find out what it takes to prepare The Old Course for such a momentous event.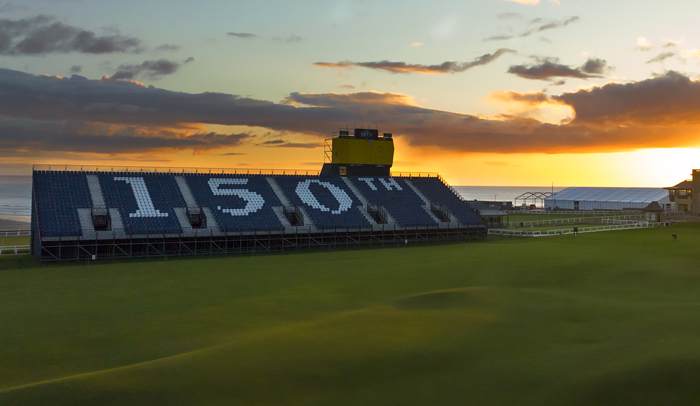 9 Bullseye Tools to Target Your Turf
Use this Bullseye™ aerification, renovation and grooming equipment to keep your course looking naturally great and healthy.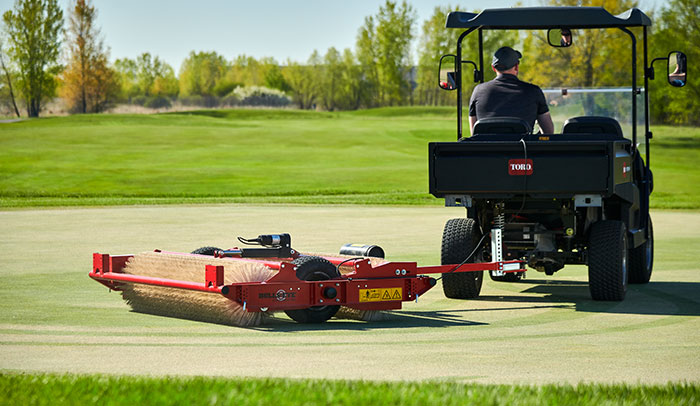 The Workman® UTX
Meet the Newest Member of Your Crew: The Workman® UTX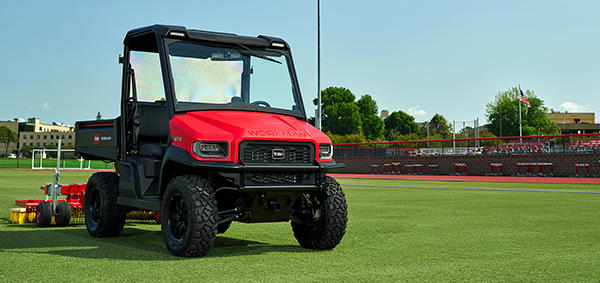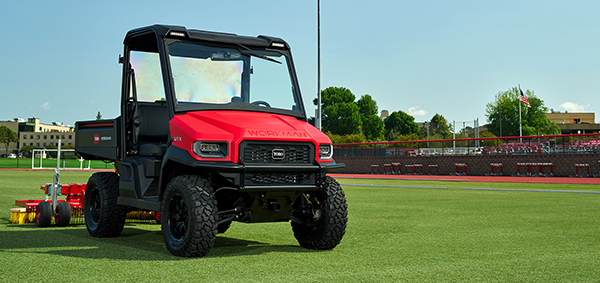 When you need a utility vehicle that can handle the rigors of a long work week, the Workman® UTX has got your back. Rounding out the Toro® Workman Series lineup, this no-nonsense, 4-wheel-drive utility vehicle is built to stand up to the toughest everyday tasks without compromise to performance — whether you're hauling, towing, plowing or more.
Made for Work in All Environments
With standard commercial-grade components, the highest payload in its class, and a proprietary speed control system, the Workman UTX is designed for long hours. And like a full-sized vehicle, it's road-ready with standard LED headlights, turn signals, hazards, and brake lights.
The Workman UTX is also built to handle multiple environments — including snow and ice. It comes ready for snow removal with an integrated BOSS® plow mount and a corrosion-resistant spray-in bed liner. An all-weather cab with heat and air conditioning is also available to keep operators comfortable in any condition.
Jerry Pate Company Acquires Century Equipment
It is our pleasure to announce that Jerry Pate Company has acquired Century Equipment based in Toledo, OH.  Century was founded in 1950 by Bob and Don O'Brien as a distributor of Toro equipment and irrigation products. 
Century Equipment has grown into three additional operations with territory across Ohio, into parts of Michigan, Indiana, Kentucky, West Virginia, and Pennsylvania. Over the years, Century has developed a reputation as one of the finest distributors of Toro, Club Car, and Rainbird products along with Ventrac, Harper, Standard Golf and Par Aide. Century proudly sells retail vehicles and landscape products through their Century Cart Connection and Century Irrigation Station.
With Century's tenured and seasoned team of professionals, we are excited about this opportunity. We will continue to operate in this territory as Century Equipment, A Jerry Pate Company.
We look forward to growth and continued success with this acquisition.
Jerry Pate Company becomes Ventrac preferred distributor
Jerry Pate Company is pleased to officially announce that we have become a preferred equipment distributor and service provider for Ventrac compact tractors and attachments. We are excited to provide our customers such a dynamic and innovative piece of equipment that can offer new ways to get work done. Ventrac is one of the most truly versatile pieces of equipment available that can complete a variety of jobs extremely well.
Ventrac tractors and attachments are engineered and manufactured in Orrville, Ohio, and sold around the world through a network of highly trained and authorized dealers. Built for performance and with quality to last, Ventrac equipment is ideal for sports turf management, collegiate campuses, residential and commercial property maintenance, public green spaces, and agricultural uses.
As a respected, well-known global brand in the professional grounds care industry, Ventrac engages customers with authentic experiences and trusted products. For more information on Ventrac, visit www.ventrac.com.  To schedule a Ventrac demo, please contact your Account Executive or reach out to our Commercial Sales team at 800-700-7001 or via email at contactus@jerrypate.com.
Jerry Pate Company announces partnership with Harper Industries
Jerry Pate Company is pleased to officially announce our partnership with Harper® Industries, Inc.  As a distributor of Harper® Turf Equipment line, we are especially excited to sell, distribute, and service the many high quality and American-manufactured goods in their product line, from Slope Mowers, Turf Vacs, Blowers, Verti-Cutters, and Shredders.  We are proud to be associated with a company whose values align closely with those of our own, especially in respect to family, people, integrity, protection, joy, and prudence.

Please click here for more information about Harper® Industries, Inc.  To speak to our team in regard to the Harper® Turf Equipment Line, please click here and contact us today, or call our commercial sales department at 800-700-7001.

From the team at Jerry Pate Company, we look forward continuing to provide you with the finest equipment, service, and products available.


Jamey Smith Earns 2020 Commercial Green Blazer Award
We are proud to announce Jamey Smith, Georgia CIG Account Executive with Jerry Pate Company, has been recognized and awarded for his outstanding accomplishments in equipment sales at the 2020 Golf Industry Show in Orlando, FL. As a recipient of the 2020 Golf Green Blazer Award from the Toro Company, Jamey has been presented the Green Blazer in front of his colleagues and Toro distribution partners from across the country. This award is given to a sales representative who is SMEI™ certified and has a minimum of three years' experience selling Toro commercial equipment products. It recognizes individuals who are contributing to the industry and bringing enhanced knowledge to their customers.
Jamey joins several other members of the CIG Sales Team at Jerry Pate Company to receive this recognition.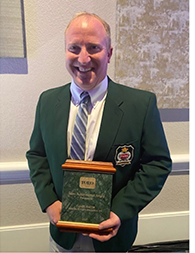 David Elder Earns 2020 Irrigation Service Award
We are proud to announce that David Elder, Irrigation Field Service Technician with Jerry Pate Company, has been recognized for his outstanding customer service and technical abilities at the 2020 Golf Industry Show in Orlando, FL. As a recipient of the 2020 Golf Irrigation Service Award from the Toro Company, David has been presented with a Blue Blazer in front of his colleagues and Toro distribution partners from across the country. Prospective candidates for this award must be a member of an established team and must have more than 18 months working as a Golf Irrigation Service Technician. Additionally, candidates must have developed a territory of irrigation service business and customer relationships that reflect exceptional results and customer satisfaction through their efforts in 2019.
In addition to this accolade, David was also awarded the 2017 Irrigation Service Rookie of the Year from the Toro Company as recognition for successful start in the Irrigation Service business. The Golf Irrigation Service Award – Blue Blazer further distinguishes David, as he continues his successful development and growth within the irrigation service business at the Jerry Pate Company. David is the third member of the irrigation service team at Jerry Pate Company to receive this recognition.