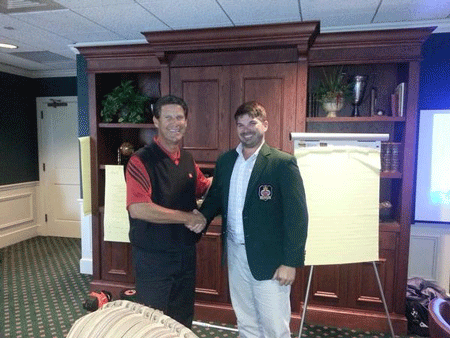 March 11, 2015 – Jerry Pate Company Northern Alabama Account Executive Jason Gattina recently received the prestigious Green Blazer Award for his accomplishments in Toro equipment sales.
The Toro Company announced its 2014 distributor sales award recipients at the annual Toro awards presentation held in San Antonio, Texas. The Toro awards recognize distributor personnel for customer–focused sales programs in the turf equipment market. The Green Blazer award is given to a sales representative who has a minimum of three years' experience in selling Toro products and brings enhanced knowledge to their customers.
"Jason is a person of solid character with great people skills and outstanding product knowledge," said Jim Heinze, CSE, Director of Commercial Sales, North America for Toro's commercial business. "He is a true resource to his customers."
"We are proud to have Jason on our team. He is a wonderful asset and the Toro Green Blazer award is a testament to his hard work and dedication to building and maintaining excellent customer relationships," said Jerry Pate, Chairman of Jerry Pate Company.